Residents of the clusters can collect their food deliveries from Cate's self-collection cabinets starting Wednesday (Aug 25)
These cabinets were introduced after reports of missing delivery items and a recent rise in food theft incidents by monkeys on campus
Students now have up to four hours to retrieve their food packages
Text and photo by Chong Xin Wei
Residents from the Nanyang Crescent and North Hill clusters can collect food deliveries from Cates's new self-collection cabinets starting Wednesday (Aug 25).
The two hall clusters are amongst the first to see the installation of lockers, as their order rates and delivery demands are higher, co-founder of Cates Mr Sun Yin, 35, told Soapbox.
"Out of all the halls on campus, (these two clusters) make up about 30 to 40 per cent of our daily orders," said Mr Sun.
The cabinets, each consisting of 39 lockers, will be placed at Saraca Hall in the Nanyang Crescent cluster and next to the entrance of the North Hill cluster's food court.
Food deliveries will be placed in Cates' Wecome Collection Cabinet for self-collection. (Photo credit: Chong Xin Wei)
Under the new pilot project, students will have up to four hours to retrieve their food packages — up from 20 minutes before. Remaining food items will be removed and discarded thereafter, said Mr Sun.
"Students are encouraged to collect their food as soon as possible to ensure the freshness of their food items," he added. 
Launched as part of an initiative with the Office of Commercial and Auxiliary Services and Office of Campus Housing, the lockers will only be used for food items due to food safety concerns, said Mr Sun. 
He added that the ambassadors loading the food packages will clean and sanitise the lockers before putting the packages in. 
The lockers were introduced after a spate of reports from students of missing delivery items last year.
The recent rise in the number of food theft incidents by monkeys on campus also prompted the company to implement the lockers, which was brought forward from September.
"Many users have reported cases whereby monkeys take their food," said Mr Sun. "The monkeys sometimes walk around the food collection points, which can compromise the safety of students collecting their food."
According to Cates, up to two orders were lost daily in the past year, though it is unclear if these orders were lost in the delivery process or taken by others mistakenly.
Mr Sun expects the new lockers will help reduce this figure, given the added security.
The lockers can only be unlocked via a digital key assigned to each user on the Cates mobile app and will come in various sizes. Larger lockers can be used for those with more than one food delivery package, or shared between two to three students.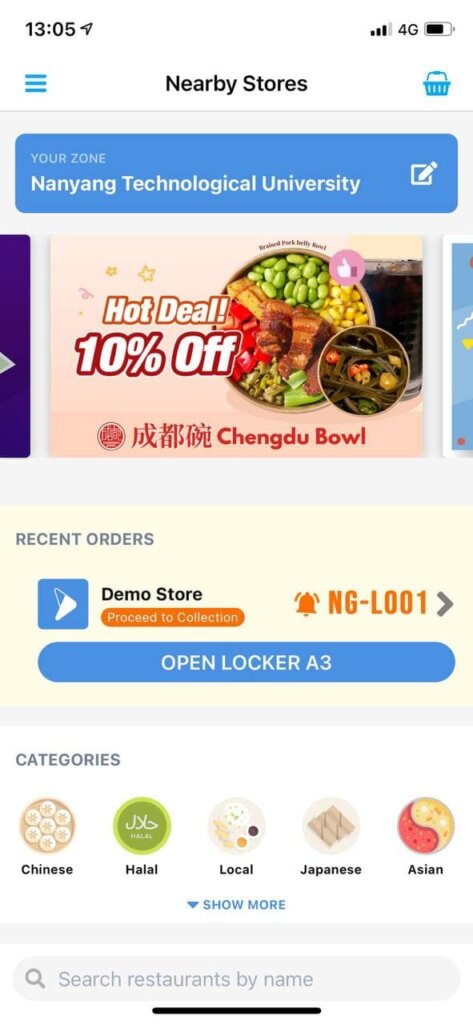 A mock-up of the Cates app, which residents can use to unlock lockers and collect their orders. (Photo credit: Sun Yin)
The company has plans to launch a second phase of installation in October this year in other hall clusters.