Technical faults have plagued NTU's Stars course registration system for multiple semesters, and some students are concerned that matters will worsen next week as larger cohorts log online
Students regularly lose access to a fair shot at bidding for the classes they want, and are at the mercy of technical errors that can disrupt their plans for the semester
Despite this, the school said the Stars course registration system was operating normally on 14 and 15 June and "did not experience any technical glitches."
The Students' Union have brought concerns about Stars to the school since last semester
Photo and text by Aditi Bharade
Additional reporting by Emma See Wenwei
The time is 10.29am. Second-year student Yiow Wen Xuan grips her mouse, eyes glued to the clock on her computer screen, ready to bid for modules to take in the next semester on Tuesday (June 15).
At exactly 10.30am, she clicks the "add courses" button. But an expiry notice fills the screen: a sign that the course registration system has been overloaded again.
By the time Wen Xuan, 19, manages to log into her NTU account again, most class slots are already filled up, and she has to make do with the leftovers. Her semester plans were turned upside down.

"I think that NTU really needs to fix their system — not just Stars, the results system is also super laggy. Hopefully, my next Stars experience won't be so heart-arresting," said the English Literature and Art History student.
For many students like Wen Xuan, this week's Stars course bidding exercise was laden with delays and crashes that have plagued the system semester after semester, upsetting students' access to a fair shot at securing classes and putting them at the mercy of technical errors.
These crashes have affected several faculties this week, but NTU's biggest schools have yet to start their bidding exercises, which are dubbed "Star Wars" by students.
Once registration opens, Star Wars mostly wrap up in a matter of seconds as students rush to secure their class time slots. These few seconds can define their entire semester.

Classes become oversubscribed almost instantly. Core modules and Major Prescribed Electives are allocated based on a first-come-first-served basis, while General Prescribed Electives and Unrestricted Electives put applicants on a waitlist.
But when the Stars system crashes — and it has for various faculties at least three semesters in a row — the bidding is thrown into disarray, leaving students frustrated as they scramble to find vacancies.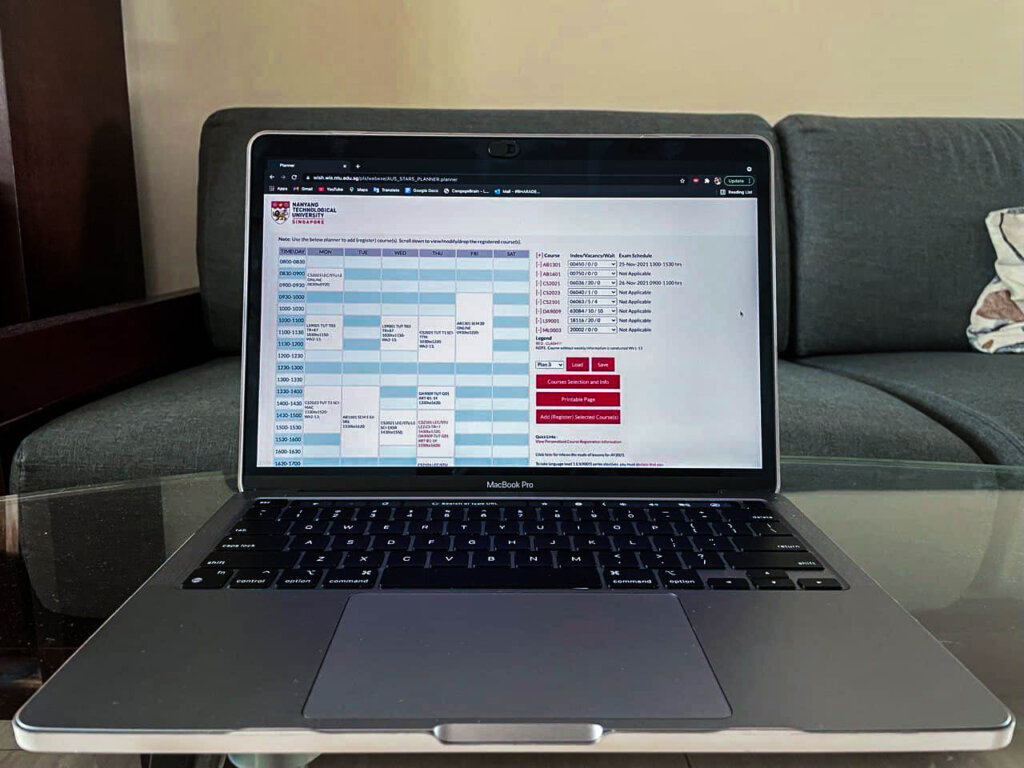 "OPERATING NORMALLY"
In response to queries about the system crashes, an NTU spokesperson told Soapbox: "The Stars course registration system was operating normally on June 14 and 15 and did not experience any technical glitches."
"More than 90 per cent of students scheduled to register for their courses on June 14 and 15 have successfully done so. The University has dedicated database resources for the undergraduate course registration period from June 14 to July 2. These resources have been able to meet the IT demand thus far."
In spite of this, social media was rife with complaints from students who still ran into technical issues during the course registration exercise.
Second-year Mechanical and Aerospace Engineering (MAE) student Ryu Naufal told Soapbox his plans were derailed as the prerequisite classes he applied for were all oversubscribed when the system came back online.
"I encountered very slow loading times and I was unable to bid for mods as vacancies ran out when I finally managed to log in," said the 21-year-old. "It ruined my plans for my course."
"If I don't take these mods now, I can only take them again in Year Three and it would mean I cannot take other mods."
And without clearing these modules, his chances of taking suitable classes on exchange could be slim, he added.
Ang Teck Yen, another MAE student who applied for modules on Thursday, said the website buffered for nearly five minutes after he logged in promptly at 10.30am, only to find out his desired modules were all taken.
The final-year student said: "It is most desirable to clear more mods in Semester 1. As a Year Four student, it helps if I can spend more time focusing on my final-year project in Semester 2."
"No matter how you plan Stars, even if you have the best internet and all, if there's no slot, means no slot."
The NTU spokesperson advised students to avoid using unauthorised programmes or frequently refresh the page while submitting their course registration to avoid technical errors.
Students are also advised to save multiple plans in the STARS system and consider classes that still have available vacancies, the school added.
"Students who need help to register for core courses and Major Prescribed Electives should approach their respective schools' undergraduate office for assistance," said the spokesperson.
STUDENTS' UNION IN TALKS WITH NTU
In a statement to Soapbox, the NTU Students' Union (SU) said they have brought concerns about course registration to NTU since last semester.
The Union recommended to the school to standardise the release of vacancies for modules, shorten the duration of the application window and stagger cohorts of students to reduce the load on the school's servers, said the SU spokesperson.
"The expected traffic is actually 1,000 students, but the number of requests can go up to 8,000 when students use multiple browsers and devices to enter into Stars at the same time."
"We have also suggested a change in system, and while there are discussions on future changes, the school is unable to disclose any information at this time," the spokesperson said.
NTUSU added that they have received fewer complaints from students entering the system in this round.
Students told Soapbox that they would prefer to see the first-come-first-serve system removed.
Bhargav Singapuri, a third-year Data Science and Artificial Intelligence student, suggested an approach to course registration used in the National University of Singapore (NUS).
In NUS, students are assigned modules depending on curricular needs, student seniority and their preference indicated through ranking, said its website.
"Changes have to be made so we don't lose out every semester," Bhargav, 23, said.
Next week, students from some of NTU's largest faculties, including the School of Electrical and Electronic Engineering (EEE), Nanyang Business School and the College of Humanities will bid for their classes, drawing concern that the technical issues will worsen when the Stars system takes in more bidding requests at once.
Third-year EEE student Brijesh Shah is prepared for the worst. He has become used to the system crashing every semester.
"I'm expecting it to crash and not get my first choice of modules, so I have three back up plans ready in Stars," said the 23-year-old.
On Tuesday (June 22), Brijesh will log online with some 500 other EEE students in his cohort to bid for modules.
He said: "I'm hopeful that after repeated failures over the years and having had many students complain about it, the school would finally have improved the system."
"But I'm not keeping my hopes up."