Around 70 art pieces by ADM graduates were displayed at Gillman Barracks from Nov 27 to Dec 13 for the ADM Grad Show
Postponed from May, the exhibition was scaled down to adhere to safe management measures and features around half of the cohort's projects
The exhibition is an opportunity for graduates — many still hunting for full-time jobs — to showcase their work to potential employers
Photos and text by Natalie Tan
After setbacks and a momentary cancellation due to the pandemic, graduates from the School of Art, Design and Media (ADM) were relieved to finally showcase their final-year projects (FYPs) at this year's ADM Grad Show.
The showcase of around 70 art pieces at Gillman Barracks from Nov 27 to Dec 13 is an opportunity for the art graduates, many of whom are still on the hunt for jobs, to present their work to potential employers and to the public.
ADM graduate Jacelyn Ng, one of the organisers of the exhibition, said the exhibition is an important milestone for the graduates as they enter a new stage of their lives.
Miss Ng said at least a third of her friends from the same cohort are still searching for full-time jobs, with most having to make do with short-term gigs.
The two-week exhibition, initially cancelled in May due to Covid-19, was scaled down and digitalised to meet safe-distancing management measures. For example, the graduates could only invite around 15 industry players and employers to one of the exhibition's key events — Industry Night — instead of the usual average of 250.
Miss Ng added that around half of the graduates opted out of the exhibition.
A second chance
Some graduates told Soapbox that they did not have time to prepare their displays due to external commitments, those who decided to continue with the exhibition had to scramble to reconstruct their artwork for display, as they were only told a month in advance that the Grad Show would launch in December. 
Product design graduate Dora Aik said: "I decided to participate because I wanted closure for my final-year project after spending a year on it. It was also a good experience to learn how to set up my own exhibition and manage the logistics."
Miss Aik, who is about to start a new job as an art teacher, said she had to rethink her FYP in order to submit it digitally during the Circuit Breaker, and that it was challenging to then convert it back into a physical exhibit.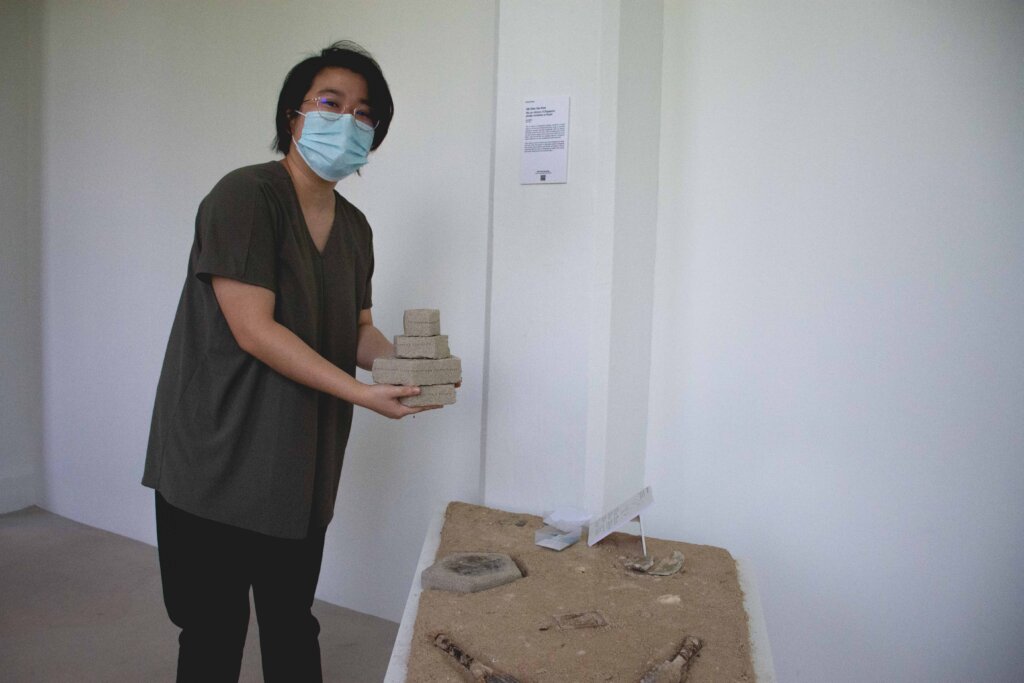 Her product design project is a collection of artifacts symbolic of Singaporean culture.
She said her original vision was a room-sized exhibit where visitors could interact with the different objects, but she only had enough time to prepare a small space in the corner of the room.
Other students seized the opportunity to showcase their work too, including photography graduate Crystal Sim, 25, who created an interactive photo book and installation that documented her struggle with self-harm.
Miss Sim, an early intervention teaching assistant, said: "The book has different textures and compartments that you're meant to touch and feel. For example, some pages were drizzled with saline water to mimic tears falling on the paper."
Another photography graduate, Miss Lin Shiauyu, 25, said she rushed to put together her display called Mould, a series of close-up photos of mould on everyday objects,
While she was disappointed that very few industry players could turn up due to safe-distancing requirements, she said she felt it was still important to showcase her work.
Interactive media graduate Valerie Ye, 25, chose not to commit to the exhibition as she had no time to set up her display while working.
Titled Bit of Quantum, her work is an audio-visual installation that uses an LED screen and a wire mesh to create the illusion of bending light around the viewer to mimic the effects of the Sun.
"It feels like a bit of a waste, especially since so many people had contributed to the project. But I didn't have time to commit to the exhibition and I didn't feel a need to showcase my work since I had already found a job," said Miss Ye.
Film graduate Vania Tan, 24, said her family was hit with financial struggles when the pandemic hit.
Her mother, a freelancer, lost her source of income, leaving Miss Tan's older sister as the sole breadwinner of her family.
Since graduating from ADM, Miss Tan has jumped between short-term internships and freelance jobs, which she added was a common experience among her cohort.
Her FYP film, titled Gold Paper, is a story about a pair of estranged sisters who reunite at their father's funeral.
Miss Tan said that while the showcase has lost its timeliness as it is five months past their graduation, she is still keen to show her work to her family.
Finding jobs has been tough on art graduates as job openings are limited, said organiser Jacelyn Ng.
"It is tough because most jobs have gone digital due to Covid-19, but not everyone in our batch specialises in digital platforms," she said.
She added that many popular roles for ADM graduates, such as jobs in museums, exhibitions and events, were unavailable due to the pandemic.
But Miss Ng said she was still pleased that some graduates turned up to showcase their work.
"What's really special about this year's exhibition is that students still decided to take part even after graduating — not because they were going to be graded, but because they wanted to really showcase their works of art to the public."